Air Conditioner Installation
Most air conditioning units are built to last for about 10-15 years. For most homeowners, this comes as a surprise, but it is what most manufacturers tell us is the life time expectancy of their units. In reality, we work on a lot of units that are over 20 years old every day. Homeowners often have a tight budget and are trying to save money by repairing an air conditioning unit that should probably be replaced. A newer energy efficient unit can often save a homeowner enough money on their utility bills that it will cost them in the long term to replace it. Does your old air conditioning unit struggle to keep your house cool on those hot summer days? Or are you tired of paying too much on your monthly utility bills? The experts at Austin A/C and Heating can perform a full analysis of your system and provide you with trustworthy advice. If your unit does not require replacement and all that is needed is some small cost effective repairs, then rest assured that we will recommend those over a whole system installation. In addition to helping residential customers with air conditioning Installation, we also help commercial customers as well.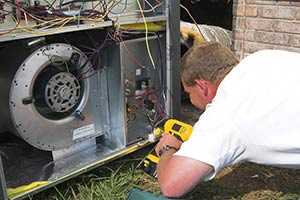 New Air Conditioning System Installation
With years of experience our air conditioning repair experts know how to find the right solution for your home. We will help you select the best option for your home's size and location.
We can install nearly every type of HVAC system or unit, including the following: